Dressing up your young Nordic skier
The following links will give you some tips on dressing your child for Nordic skiing. You want to dress a little less warmly than for downhill skiing and also you'll need clothing that allows more movement. Make sure to use NO COTTON (except underwear). Especially at Snoqualimie with our wet snow and sometimes rain, your child will get wet. Wet cotton is cold and miserable.
Dressing a Treasure Trailer (3-5 yrs)
Dressing a Little Nord (6-11 yrs)
Dressing a Freeheeler (11 and older yrs)
<![if !vml]>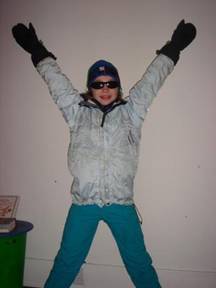 <![endif]>You can find all you need at REI, but you will also pay a lot for clothing you might have to replace next year. Remember many kids outgrow their gear yearly, and as parent, I know they also have a frustrating habit of losing their expensive ski clothes. Ski swaps are a great place to get clothes cheap. However, I found most of my kids' clothing at Value Village and Good Will. You can easily pick up your fleece jackets and bottoms there. Sometimes you'll find synthetic underwear tops or bottoms there too. For your older child, try Second Ascent in Ballard.
There a few items that I suggest getting new, however. Gloves. Your kids need one pair of warm waterproof gloves or mitts. Used gloves tend to leak. A decent water proof shell (jacket). Sometimes you will luck out and get a used jacket that won't leak. But many are very worn. After 3 years of making my daughter wear leaky used jackets, I finally started getting new ones. She is dryer and happier, and they last long enough to hand down to her brother.
What about one-piece suits like for downhill skiing. Unless your child doesn't sweat, he or she will probably get hot in that. My daughter was a bit cold sensitive, and she did wear one for a year of Little Nords. It was ok, but it's really too bulky for Nordic skiing. I definitely used a one-piece for both kids up to age 4. It was just too much work getting all those pieces of clothing on a squirming 2-4 year old.
What about Nordic ski specific jackets and pants? These are good, but not for the little kids (under about age 10) in lessons. Little kids burrow and roll around in the snow. Nordic ski specific clothing is not for snow burrowing. Also it rains at Snoqualmie Pass, so you need a jacket that will stand up to that. Once your child gets to the Freeheelers, I think springing for Nordic specific clothing is more worth it. Freeheelers spend less time digging into the snow banks. Also by 11 or so, most kids are hardened to PNW rain, and can deal with getting cold and wet without falling apart. The same goes for Nordic ski gloves. These definitely are better for proper form, but your child should only use these once they can cope appropriately with cold hands (i.e. do not fall apart when their hands are cold and actively work to warm hands when needed). In my experience, this is sometime after age 10. Note, these comments apply to ski lessons. For a race, light Nordic clothing is fine since kids will be working hard and can dress up afterwards.